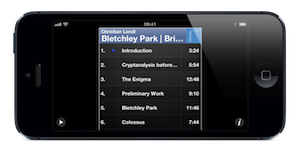 Your are too tired to read? You like a British accent? You always loved when someone read something to you? Then the audiobook version is perfect for you! It's read by the great British voiceover artist Peter Baker and is about 53 mins. long – portioned in eight short chapters that are perfect for short train rides or lunch breaks! All MP3s are encoded in 192kb/s quality (if you really really want a better quality, please drop me a line).
Listen right now

Download the chapters as single MP3s
Here you can download the eight chapters separately. To save them on your harddisk, please left-click on the links and select "Save link as" or "Save target as" (depending on your browser).

Download the complete audiobook
If you want to get the complete audiobook (all eight chapters), you can also download the MP3s packed in a single ZIP File.

Listen via podcast
You can also listen to the audiobook with your favourite podcast-player. Just add the following podcast-feed and get the eight chapters automatically.